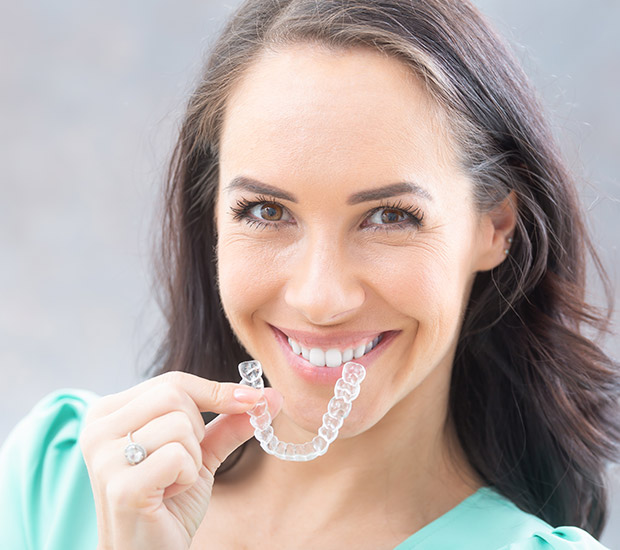 Invisalign® For Adults
Camas, WA
Invisalign® has allowed patients of all ages to transform their smiles, even in late adulthood. Clear aligners provide adults with the invisibility, flexibility, and stability they need to maintain their multidimensional lives. Through advancements in orthodontic technology, treatments have become more efficient with more successful results. According to the Invisalign® website, they have helped change over 9 million transformed smiles. Invisalign® technology continues to improve and allow for more preventative and corrective treatments in adult patients.
At All Star Orthodontics, we offer Invisalign® for our adult patients experiencing malocclusion or misalignment issues. Our team can help you discover your true smile and achieve it without the need for traditional metal appliances. To learn more about Invisalign® treatment or schedule an appointment, call 360-799-3466 today.
Conditions Treated By Invisalign®
Many of the orthodontic conditions adults face can be treated in as little as six months, depending on the complexity of the patient's case. Each treatment comes with an individualized custom plan that is curated based on an initial examination, smile assessment, and 3D scanner that takes 6,000 images per second to produce the most accurate results. This allows patients to see what their new smile will look like by the end of treatment.
Invisalign® for adults encompasses treatment for a variety of conditions based on improvements in research, data, and intelligence from past patients. In most cases, patients seek Invisalign® treatment for conditions such as:
Gaps between the teeth
Open bites, overbites, overjets, and underbites
A bad bite or malocclusion, causing teeth to fit together incorrectly
Overcrowding, causing tooth decay or gum disease
Abnormal jaw pain, or pressure that is caused by crooked teeth
Desire for a healthier mouth and a more confident smile
Early v. Adult Invisalign® Treatment
Early orthodontic treatments, including Invisalign® First, focuses primarily on guiding the teeth to proper positioning in the early stages of development. During the development phase, orthodontists are able to detect early signs of decay, damage, and misalignment issues that often worsen with the emergence of permanent teeth. Orthodontic treatment for children with more primary teeth differs in that it is more preventative, but many young patients require another round of orthodontic treatment later in adulthood.
Adult orthodontic treatment focuses primarily on correcting teeth, gum, jaw, and bite issues that are fixated after the eruption of all permanent teeth. Most jaws are fully developed at the age of 18, the time around which wisdom teeth begin erupting. This can strain the surrounding teeth and bone, causing overcrowding, misalignment, and other issues. Adults may also need an extraction prior to Invisalign® treatment as structural changes require adequate space that may be unavailable in the patient's mouth. However, regardless of past treatments and current status, adults can seek orthodontic treatment and achieve their desired results.
The Treatment Process
During the consultation, we will conduct a physical examination and smile assessment, which consists of taking X-rays using a 3D scanner. Upon completing the initial examination and smile assessment, Dr. Le and the patient should have a good understanding of the treatment plan. The patient will also see a 3D illustration of their current state as well as what their new smile will look like upon completion of their prescribed treatment.
The first set of aligners will be ready after two weeks, in which the patient will come in for a fitting to ensure the aligners are comfortable and fit properly in their mouth. Aligners are to be worn for 22 hours a day, only removed to eat, drink, brush, and floss. The patient's teeth will gradually shift to their desired position with each new set. We schedule follow-ups every six to eight weeks to check the patient's progress, ensure the treatment plan is going as intended, and hand them their new batch of aligners. During the follow-up appointments, we encourage patients to address any questions or concerns they have.
During and Post Treatment Care
During Treatment
To attain the most accurate and timely results, adult patients must be self-disciplined and adhere to all treatment guidelines during their treatment. It is important to practice good oral hygiene to avoid staining the aligners, which means brushing, flossing, and rinsing with mouthwash after every meal. This ensures any excess residue and food particles are washed away before placing the aligners back on.
Maintaining the aligners themselves is just as important as caring for the teeth. To properly maintain the aligners, we recommend cleaning them twice daily using a soft toothbrush, lukewarm water, and mouthwash or cleaning crystals. Aligners should be placed in a case when eating food and brushing teeth to keep them free of dirt particles and avoid loss or breakage. During the first appointment, we will thoroughly discuss proper maintenance and hygiene habits for a healthy, successful smile journey.
Post Treatment
On the patient's last visit, they can compare their new smile with the smile they came in with on the first visit. We will take the time to discuss the patient's current oral health status and address any individual guidelines they should follow to keep their new smile intact. We may recommend the patient wear a retainer, which keeps the teeth in their desired position and prevents the natural inclination to return to their original placement. We will go over all retainer options and answer any remaining questions the patient has about post-treatment protocol.
Schedule a Visit Today
Invisalign® for Adults is available at our office. The All Star Orthodontics team looks forward to treating you and helping you achieve the smile you want. Call our office at 360-799-3466 to learn more or schedule an appointment.
Frequently Asked Questions About Invisalign® For Adults
Who is a good candidate for Invisalign®?
Invisalign® is a viable option for adults with healthy teeth and bones in the face who have minor to severe misalignment issues. Patients with cavities or unfinished dental work should complete their treatments prior to undergoing Invisalign® treatment. During the initial consultation, we conduct a smile assessment to indicate whether the patient is a good candidate.
How much does Invisalign® treatments cost for adult patients?
The total cost of treatment for any Invisalign® patient depends on the severity of the patient's case and the duration of treatment. Cost is assessed by the number of trays and any additional components needed (i.e. attachments). We accept many forms of payment and most insurances, helping you choose the option that best suits you.
What will happen if I do not wear my aligners for the allotted 22 hours a day?
Teeth naturally shift back to their original placement when no force or pressure is applied on them. When worn for the prescribed amount of time (22 hours a day), aligners exert the amount of pressure needed to move the teeth throughout the treatment period. The allocated 2 hours are intended for eating and brushing alone, and patients who leave them on for longer see better results.
Are there any food or beverage restrictions with clear aligners?
Since aligners are removed when eating, drinking, and brushing teeth, there are no restrictions on food and beverage consumption. As long as the aligners are not being worn, patients may eat and drink whatever they please. However, we do advise against foods and beverages that are high in sugar or acid as they can easily wear down the teeth, which can cause complications after treatment.
Are the aligners painful?
In the beginning, patients may feel slight discomfort because of the constant pressure, but this should slowly diminish over the first week. Feeling pressure or force is a good thing; it means that the aligners are doing their job. If, however, the pressure is unbearable or painful, please give us a call to schedule an appointment, so we can make any necessary adjustments.
How long is the average treatment time for adult patients?
The average treatment time for adults ranges between 6 to 24 months. Some cases require less time, while others may require more time (up to 3 years). The total duration of treatment will be discussed during your first visit.
Recent Posts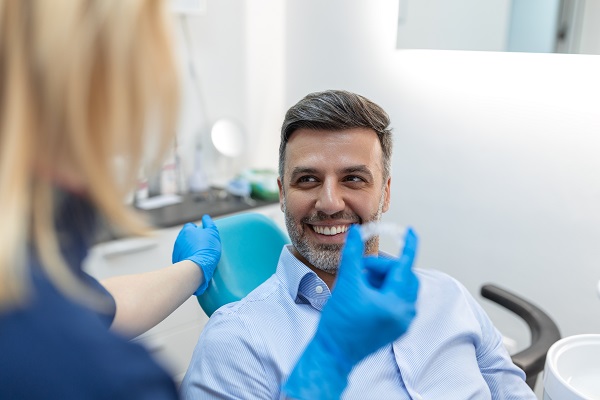 Wondering whether general dentists can provide orthodontics for their patients? Yes, they can. While not all dentists offer orthodontic services, having straight teeth is important to dental health. Fortunately, clear aligners are one of the more popular straightening options that dentists can offer.Learning more about orthodontics is a great idea for anyone who wants or…
Explore additional topics covered on our website: